The emergence of different mobile learning apps has made it increasingly difficult for these apps to stand out among competitors. This digital era expects more from these apps, something 'extra' that improves their user experience and makes learning fun and exciting.
Various user engagement and intention strategies are now being implemented to keep users constantly engaged. However, one has proven to be the most efficient engagement tool- Gamification. 
Gamification is the process of integrating game mechanics into mobile applications to increase user engagement. If you have experience playing games like candy crush and Pokemon go, you've likely experienced the addictiveness of these games. A few seconds into the game and you find yourself pining for gold, experience points, quests, and others. These strategies, which have worked perfectly for mobile games, can now be implemented into your learning apps. 
Duolingo, a popular learning application, has successfully implemented gamification into its system. In its 11 years, Duolingo has established a business of making language learning entertaining, even addicting, with more than 500 million members worldwide.
Keep on reading for a complete Duolingo case study.
A Duolingo Case Study: Online Course Gamification 
What makes Duolingo so successful?
There is a high chance that you have come across the popular language learning platform, personally or from acquaintances. This shows how much growth the program has witnessed since its development.
In 2011, we saw Duolingo coming into the digital space as a teaching and translating language app. Since then, Duolingo has amassed over 500 million downloads and 40 million monthly users, making it the most popular educational app worldwide. For an app that still doesn't charge users a penny to amass such popularity, it stands to reason that they would be succeeding in many areas.
What Makes Duolingo Stand Out?
In simple terms, Duolingo helps users learn foreign languages for free. The language app is an augmented reality software with a chatbot that speaks multiple languages and has speech recognition skills. This virtual language learning aid provides interactive sessions in nearly 40 languages to millions of learners worldwide.
The mission of the Duolingo program is to provide a universally available personalized learning platform while making learning fun and exciting. It has achieved this by implementing trendy technologies to promote real-life communication, deliver standout content and allow learners to discover personalized learning patterns while maintaining explicit instructions.
Furthermore, the app incorporates machine learning technology, allowing it to learn from its users while simultaneously teaching them. The app accomplishes this by guaranteeing that its material is extensively verified and evaluated by its AI-based algorithms and soliciting user feedback. It accomplishes this by picking the answers provided by most users and constantly improving its linguistic knowledge base.
The language and technology behind the Duolingo program offer users an interactive experience where they can translate words, phrases, and sentences from their original tongue to their chosen language of study. The app doesn't just power the Duolingo platform; the website is also loaded with its own algorithms and software designed to offer cutting-edge learning capabilities to the Duolingo community.
So, can you clone the success of this language-learning app? 
With its custom learning management system built, creating an exact replica of this app can be difficult. However, you can implement its successful features in your language course. This article will help you deconstruct the language eLearning program while focusing on how you can implement a similar gamification system.
A Breakdown of Duolingo
Although Duolingo has many features, a few essential ones stick above the others. Let's take a look at these core features.
User Profiles
The user profile feature is required for user onboarding and registration. The onboarding feature of Duolingo is quite different from other apps. Where others will launch a slideshow tutorial and force users to do a quick sign-up, Duolingo takes a different approach. Duolingo throws users into the first lesson immediately without asking for a sign.
The onboarding system used is refreshingly quick and pretty effective. Users simply need to select the language they prefer to learn, select the duration they can spend in a day, and take them straight to their first lesson. It doesn't bring up signup until the first lesson is completed; you need to save your progress.
This strategy allows Duolingo users to experience the App immediately and ensures retention. The only tradeoff is that it will not immediately get all users' emails and might not get for those who didn't register. However, by delaying sign-up, Duolingo can confirm that you're invested in the app before asking you to sign up.
For its sign-up, Duolingo's process is very simple. It involves filling out certain data like name, age, and email, typing in the password, and signing up the user. It also includes signing up using Google and social media accounts. 
Language Course Format
In this Duolingo case study, we must note that this app is not a lesson-based program, which makes it different from other online learning programs. Instead, Duolingo offers a set of exercises and learning activities, with gamification and social elements built in.
Exercises in speaking and listening are part of the curriculum. There are other course sections where the user must select the appropriate response from various options or do a translation.
Duolingo's learning system includes:
Listening: Understanding what we hear is the main requirement for learning a language. Users can practice listening with both single words and whole sentences on Duolingo.
Vocabulary: When a learner begins to study a new language, vocabulary practice is crucial. In Duolingo, the initial lessons of the course are primarily made up of exercises for learning new vocabulary.
Speaking: A language learning program must include exercises for practicing speaking. Make sure they can't be skipped fully. For instance, Duolingo allows users to switch off speaking activities for a full hour before turning them back on.
To implement this learning structure in an online course, you can use any open-source LMS. The most important aspect when selecting an LMS with robust support for quiz and activity-based content. Being able to create different games, audio assignments, and use a wide variety of quiz questions is key. One LMS that you can use that supports all of these features is LearnDash LMS. Additionally, by using LearnDash with the BuddyBoss theme, it is also easy to deliver your course through an app, making the learning experience even more similar to what Duolingo offers.
Gamification
"Motivating yourself to learn is very hard and learning a language is even harder, especially when you are doing that online on your own, so we realized early on that we needed to try to encourage people to form a daily learning habit. We found that the most effective techniques for this come from the gaming world."
This was spoken by Duolingo's Associate Product Manager Zan Gilani.
Making language learning easy, enjoyable, and free was Duolingo's straightforward objective when it launched in 2011. The learning platform, however, encountered three significant difficulties. First, a poor user retention rate, then the difficulty of motivating customers to stick around, and ultimately, the ability to show improvement in learning.
These difficulties shaped the product approach early on in Duolingo's development. The most senior product manager for the company, Gilani, stated that "we understood we wanted to encourage people to establish a daily learning habit." However, Duolingo has used the gamification approach to overcome these difficulties.
It's encouraging to see educational software use game design psychology, which has proven to be a strong motivator. By making language learning enjoyable—even addictive for its users, DuoLingo's gamified method adds a layer of enjoyment to the process.
Not only does Duolingo use gamification effectively, but it also does it in several different ways. Lingots, the local currency, is the first thing. They may be spent on extra training or mascot costume accessories. There are also leaderboards, badges, challenges, and day streaks to win bonus points.
Here's a breakdown of these strategies:
Internal Currency
Lingots are an in-game currency that players may acquire by reaching daily experience goals, leveling up, achieving goals, and a lengthy list of other actions that Duolingo hopes you'll strive for. Users can get more advantages in the app as they accumulate more. These Lingots can then be spent on a range of goods, some of which are "skins" for your app mascot and others that are more useful. Earned lingots stimulate both the user's internal and extrinsic motivators. It also adds spice to the mix by bringing in a gambling vibe.
Streaks
Continuing with this Duolingo case study, we need to talk about streaks. Streaks have become quite popular since their introduction to Snapchat. Streaks have an addictive appeal and urge users to keep using the app so they may keep "owning" a high streak score. 
In Duolingo, a winning streak has been utilized to gauge how consistently students learn. A winning streak begins at zero and rises by one for each course studied. If the required number of lessons is not completed, the winning streak will end and be reset to zero. The longer your streak, the more exciting it is. And the more pressure there is not to break it.
The well-known feature significantly affects user retention. A streak rewards persistence and participation, keeping users hooked on the program! Duolingo's  winning recipe for user retention includes the "weekend amulet," which allows users to skip a weekend without losing their streak, and its  "streak freeze."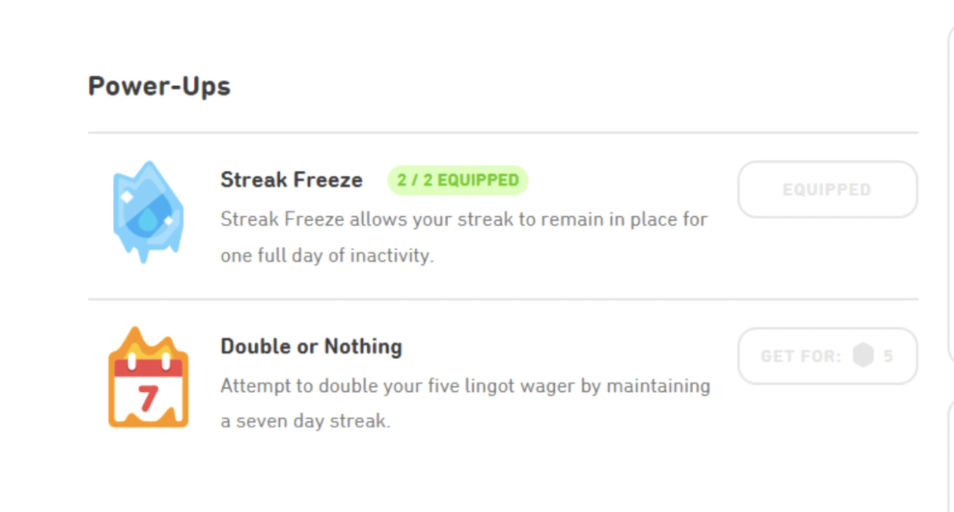 Experience Points
Duolingo's experience points, or XP for short, are the points you accumulate while you learn new languages. Numerous online games make use of experience points. It is an easy yet efficient method of rewarding your users. In addition to offering a sense of advancement and accomplishment, they also give people a sense of ownership over their digital assets. Learners can establish a daily point target on Duolingo, and points can be tied to other gamification features.
Leaderboards
Users earn points for completing each course, which puts them on a leaderboard. This feature sparks the urge to succeed as a leader and a sense of competition. The software also frequently notifies you when a friend has accomplished something or displays their current position. This not only gives you a chance to celebrate your friends' accomplishments, but it also inspires you to catch pace with your friends!
Being promoted or demoted motivates users to keep performing well and push themselves harder to regain their previous position. Nobody enjoys hearing that their abilities are deteriorating.
Achievement Badge
A person can earn achievement tokens on Duolingo to represent their skills. They are shown on the user profile. Badges are a fantastic tool for encouraging users to feel invested in their studies. They satisfy the basic demand for self-worth, a significant intrinsic drive. Users can check their progress by looking at their obtained badges or brag about their medals to their friends!
How to implement gamification in your course?
Are you inspired by this Duolingo case study? Interested in incorporating gamification into your Learning system?  Here's how to implement Duolingo-like gamification to your eLearning platform.
Adding game-like elements components like badges, points, and leaderboards to your language learning platform is an easy and effective way to start. 
BadgeOS is a WordPress gamification plugin that allows users of your site to collect badges, and display progress, achievements, and points. Beyond badges, BadgeOS provides you with access to more gamification components like leaderboards and progress maps. It also enables you to create a reward system using points and rankings.
All components of your gamification system will be able to connect and communicate with one another if they are all handled by a single plugin. You may give badges, points, and ranks all at once using BadgeOS as your one gamification solution. For instance, you may give points to achieve ranks and badges, or vice versa.
Grant and Deduct Points
Points are a key element in the gamification system examined in this Duolingo Case Study. Creating point types like credits, coins, and gems is a great example of gamification. You can pick point names based on what works best for your website and identity. After that, you can decide how each point category is accrued and subtracted.
One tool you can use to set up a point system on a WordPress eLearning site is BadgeOS. Some actions you can set up to act as triggers for earning points include:
Completing a lesson, quiz, or course.
Submitting an assignment.
Obtaining a certain grade on an evaluation.
Passing a quiz.
Award Badges
You also have the option to award Badges, medals, trophies, or any other virtual incentive that best fits your course to motivate your students. If you are using a WordPress-based LMS, like LearnDash or LifterLMS, er recommend using the BadgeOS plugin, as it offers a seamless integration experience.
Award Ranks
Following the Duolingo case study, you can use the number of badges or points a user has earned to assign different user ranks to your users. Students can also move up the hierarchy based on the courses they complete or the grades they achieve in their online courses.
BadgeOS can also connect to a user's LinkedIn profile, allowing them to "carry their achievements with them" wherever they go, in a similar fashion as Duolingo.
Duolingo Case Study – Gamification Deconstructed
As a result of the success that different businesses are having, gamification remains a hot issue in the eLearning industry. The major benefit is its implementation is increased user engagement. If you decide to apply these gamificatIon features to your learning platform, make sure you check out these effective online course gamification ideas.
You can also reach out to our LMS experts. After implementing and designing gamification systems for dozens of e-learning and membership sites, rest assured your online course will be in the right hands. Just take a look at some of our eLearning gamification projects.
The market will become considerably more competitive as new apps emerge, increasing competition in all areas. The apps that apply tried-and-true techniques for user engagement, such as gamification, will ultimately level the playing field and maintain a competitive edge.