In 2022, eLearning platforms have become more popular and practical than ever. In the ever-evolving tech-driven and digital world, eLearning platforms continue to be in the spotlight. Once you get familiar with a WordPress LMS plugin, you probably won't feel like changing to a different plugin.
With Learning Management System plugins, users can create and maintain WordPress courses. The good news is that most LMS plugins now allow users to be in complete control over their content. And that means handling subscriptions, content distribution, etc.
As of now, Tutor LMS and LearnDash are some of the most famous LMS plugins you can find for WordPress sites. Both plugins have distinct features and support a variety of use cases. If you want to create and manage a flawless and effective eLearning space, you can make the most out of LMS plugins like LearnDash and Tutor LMS.
In this blog post, you will learn about the hallmark features and distinctions between LearnDash vs. TutorLMS. The idea is to help you choose a plugin that caters to your needs.
The Power and Age of eLearning
Today, eLearning platforms have a heightened exposure that makes it possible for users to address problems more efficiently. From affordability to flexibility, eLearning platforms check all the boxes and provide added value to the end users.
Psychologically, people consume and learn information much better through audiovisuals. Think of eLearning through the lens of disciplined learning that boosts engagement levels for learners. The truth is that eLearning empowers learners and has opened new opportunities to enhance their skills.
Whether it's for academic or business purposes, eLearning has become a transformative learning approach for learners. It also brings different types of learners to the same page. One of the hallmark elements of eLearning platforms is that they centralize information that allows learners to consume and review information efficiently.
eLearning Market Growth
One of the main reasons for significant growth in the eLearning market is more accessibility to smart mobile devices. In fact, more than 90% of employees now use a smartphone for work. The eLearning VR market will grow to $300 million by 2028. You may not be aware of it, but the eLearning market is set to cross the threshold of $375 billion by 2026. Now, this makes all the more reason to dive into the most useful and resourceful LMS plugins. And in the context of LMS solutions, WordPress has become the standard web development platform.
A Simplified Look at LearnDash
When examining LearnDash vs. TutorLMS in terms of popularity, LearnDash has become a top-tier choice. It is also a practical WordPress LMS plugin. And LearnDash is arguably the most utilized LMS plugin you can find in the market. One element that stands out LearnDash from the competition is that it uses new eLearning technologies and methodologies integrated with WordPress.
With LearnDash, you can create and sell training programs and courses. You can also track the progress of a user and award certificates, badges, and points. LearnDash is an all-in-one LMS solution with attractive, modern, and easy-to-use features.
LearnDash has also gained the trust of startups, bloggers, entrepreneurs, academic institutions, and small businesses throughout the world.
If you get the product license of LearnDash, it will give you access to all future updates, dedicated support, and diverse features for an entire year. Like other top-notch LMS plugins, LearnDash offers seamless integration with many popular third-party apps, plugins and services. You can integrate it with famous plugins such as PayPal, MailChimp, Stripe, WooCommerce, etc. LearnDash packs a solid punch and can help users meet all their LMS needs.
With an annual subscription to this LMS plugin, users can also create their own training courses via the simple drag-and-drop tool. On top of creating and managing, users can also monetize their courses. Users can build subscription portals, create multiple course bundles, or charge a specific membership fee to sell courses in the market.
You can use automated email notifications, unique user profiles, group management, and detailed progress reporting to manage courses. If you want to integrate additional tools, you'd be thrilled to know that LearnDash supports various mobile-compatible add-ons. Users can also use a variety of WordPress themes to build their site, with many LearnDash themes, specifically created for courses available.
In retrospect, LearnDash is a premium, practical, and useful tool for users who want to transform their WordPress website into a rich learning management system.
A Simplified Look at Tutor LMS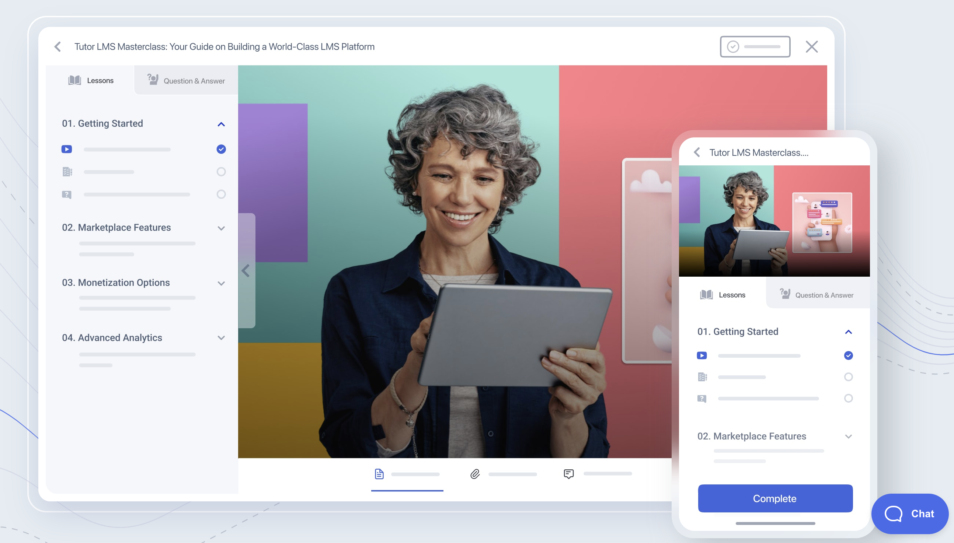 Through relentless development efforts by Themeum, Tutor LMS came into the spotlight in March 2019. Since then, the LMS plugin has gained a lot of support and momentum in the market. But the fact is that Tutor LMS is still relatively new, and not every user is aware of its use cases and features. Tutor LMS has had over 40,000 installations in two years and continues to get positive reviews.
Tutor LMS comes with free templates and a user-friendly environment that propels you to make the most out of the plugin. With Tutor LMS, users can create courses and integrate separate lessons in a matter of minutes. Tutor LMS also comes with a free version that has more than enough templates and features to create attractive courses and meet basic LMS needs. However, Tutor LMS is more useful when you upgrade it to one of its paid plans.
Unlike LearnDash, Tutor LMS is somewhat newer. However, the attractive built-in features and straightforward course-building approach of Tutor LMS make it an excellent choice for users. Like LearnDash, Tutor LMS allows users to play around with course analytics and customization options to make logical and informed decisions.
Most built-in features of Tutor LMS are designed to engage users and spark more interest. In fact, this added interest propels users to build and manage more courses on the platform. Tutor LMS is a fun, simple, and easy LMS plugin that focuses on the most relevant features.
Tutor LMS comes with a front-end course builder and a comprehensive set of features that simplifies and organizes tasks efficiently. For instance, different types of quizzes boost the engagement level of a course. As a result, the learning process becomes more productive and enjoyable for the participant.
Like LearnDash, Tutor LMS supports many add-ons that improve the overall LMS experience. Tutor LMS also offers a seamless integration experience with numerous third-party plugins and services.
You can also use simple yet effective drag-and-drop functionality to create courses. You can further customize the look of your course pages using Gutenberg or the page builder of your choice, such as Elementor.
Tutor LMS Vs. LearnDash: Comparison of Features
Fundamentally, there are minor differences between LearnDash and tutor LMS. And both platforms revolve around WordPress to support scalable and robust features. If we see at a fundamental level, there are no significant differences between these platforms as both utilize WordPress to create an LMS solution that is robust and scalable.
Keeping that in mind, here is a comparative analysis of core features on LearnDash and Tutor LMS:
Ease of Use
LearnDash and Tutor LMS offer easy-to-use, simple, and navigational core functionalities and features. Both work on WordPress, which is the most widely used CMS of all time. Moreover, LearnDash and Tutor LMS offer almost identical user experiences. The user interface of LearnDash and Tutor LMS is simple, well-designed, and intuitive.
Creating and Managing Courses
Both LearnDash and TutorLMS pack an easy-to-use, drag-and-drop course-building feature. However, TutorLMS offers the advantage of front-end course creation, which LearnDash users can only obtain through add-ons. Both platforms offer a content drip feature that allows you to deliver lessons automatically and follow a predetermined schedule.
In both cases, instructors have the option to diversify their course content with text, media, quizzes, and assignments.
When it comes to course marketing, LearnDash LMS comes with standard course and lesson page designs to present your content in the best light. TutorLMS also offers built-in design options with multiple layouts to choose from for your course pages. Furthermore, design can be improved in both cases through customization or with the use of specialized eLearning WordPress themes.
Management-wise, TutorLMS includes built-in student and teacher dashboards containing all the information you need to manage the learning experience, depending on your user role. Admin users also have access to analytics and reports built in.
With LearnDash, you can also create convenient student profile pages using shortcodes or blocks. However, when it comes to reporting, analytics are only available through their LearnDash Pro Panel add-on, which is only included with the pricier licenses of the product.
Selling Courses
Tutor LMS and LearnDash work on WordPress, which means you can integrate your LMS with famous eCommerce plugins to sell different types of courses. Tutor LMS and LearnDash come with separate payment gateways that allow users to track their progress through detailed reports.
Dedicated Support
Both LearnDash and TutorLMS give their users a variety of options when it comes to customer support. Email customer support is available to both of the plugins' users. Additionally, users can take advantage of extensive documentation libraries and tutorials or find support in the active communities of users online. As WordPress-based products, you'll also find no shortage of specialized developers to work with online, helping you customize the platform according to your needs.
Tutor LMS Vs. LearnDash: Pricing
Price is the major difference between Tutor LMS and LearnDash. If you've decided to get LearnDash, you will have to purchase an annual license to use the plugin. You can get the license for $199 for 10 to 25 websites. LearnDash offers custom options for plugin functions and features. It means you can enhance the user experience through add-ons. If you don't want to use a front-end builder and advanced features, Tutor LMS makes a solid LMS choice.
Understand that there is no free trial version if you're planning to choose LearnDash. Conversely, you can use the basic license version of Tutor LMS for free. However, this version comes with limited features and functionalities. If you want to avoid the high price point and don't need a lot of features and core functionalities, opt for Tutor LMS.
Here is a simple comparison of licenses for LearnDash and Tutor LMS:
| | | |
| --- | --- | --- |
| License | LearnDash | Tutor LMS |
| Single-site | $159 a year | $119.20 a year |
| Multi-site | $329 for 25 sites$199 for 10 sites | Unlimited licenses for $239.20 a year5 site licenses for $159.20 a year |
| Lifetime | Not available | $799.20 for unlimited sites$479.20 for five sites$319.20 for one site |
TutorLMS Vs. LearnDash: What You Should Opt for?
Unlike other learning management systems that offer self-hosting solutions or open-source platforms, LearnDash and TutorLMS are well-positioned and well-designed to have a competitive edge.
Both Tutor LMS and LearnDash come with many attractive features for users. In short, all the built-in features within Tutor LMS also come with LearnDash. You can expect standard features like student profiles/dashboards, certificate builders, a drag-and-drop course builder, and student notifications from both LMS options.
LearnDash has some additional built-in features, such as badges and points, which can make some consider it a more robust and comprehensive LMS solution. However, it also lacks some important features in its core, such as a complete reporting solution, which is included straight out-of-the-box with TutorLMS. Ultimately, the best decision will depend on the specific features you are looking for and which interface you feel the most comfortable with.
If you're looking for the most cost-effective solution, then Tutor LMS is a more affordable option. Tutor LMS also serves as a good starting point to dive into the realm of LMS solutions.
LearnDash vs. TutorLMS
When selecting the "right" LMS plugin, review your needs and then make a decision. On the surface, it can be overwhelming to choose from a plethora of LMS plugins. Your criteria should be to opt for an LMS plugin that can help you achieve your short-term and long-term goals.
Technically, an LMS is an app that allows end-users to document, track, report, and deliver training programs. It is one of the reasons most people now lean towards eLearning to learn in their own style and pace. When it comes to LMS solutions, the options are limited right now. Besides, the competitive drive is at an all-time high.
If you want to play safe, opt for top-rated, reviewed, and acclaimed LMS solutions for your WordPress site. In hindsight, check the dedicated features attached to an LMS plugin and see whether or not those features would be enough to meet your needs. You can also book a call with our team of LMS consultants, who can take a closer look at your courses and requirements and help you determine which is the best platform for you.
Psst… Are you evaluating other options? Make sure you also check out these LMS comparisons: