Learning Management Systems platforms are instrumental to educators managing elementary school coursework online. They come with a wide range of services and tools that support students through the learning process.
The platforms make learning resources accessible online, allowing students to collaborate with educators and parents for an enhanced educational experience.
LMSs feature tools that allow educators to issue and track assignments and assessments; their communication features enable instructors, students, and parents to communicate through mobile notifications, direct messages, and even discussion forums.
Requirements For Choosing An LMS For Kids
Elementary school teachers lay the foundation for lifelong learning and require specific soft and hard skills to teach elementary school kids online. Here is an overview of what you need to teach elementary school kids online.
Education
All states except elementary school teachers to have an elementary education bachelor's degree. Some states may also need teachers to specialize in specific subjects like science. An advanced degree is not a requirement but would help further your career.
Licensing and Certification
If you have a bachelor's degree in a field other than elementary teaching, you require a teaching certificate. Different states have varying requirements for elementary teaching certification; however, there are many similarities.
Prospective bachelor's degree teachers should enroll in a student teaching program and pass state certification exams.
Because elementary school teaching certifications vary significantly by state, it is vital to research and understand the different state certification requirements.
Skills Requirements
The desirable skills in elementary school instructors include:
1. Communication Expertise
Communication skills are fundamental in modeling positive classroom interactions and increasing understanding. Listen to your students and provide feedback to impact their learning positively.
Stay open-minded and understand that not all students have the resources and technological know-how to attend the classes. This way, you can help students and parents that are not good with technology navigate learning management systems and resources.
2. Knowledge of Elementary Level Subjects
An elementary-level instructor must be knowledgeable about the most valuable elementary-level subjects. That is, mathematics, language arts, social studies, and science.
3. Critical Thinking and Problem-Solving Skills
Elementary school teachers should be able to solve problems as they arise. They should also be able to transfer the skills to the learners to help them communicate effectively with other students and come up with solutions to challenges.
4. Classroom Management
Elementary school teachers should be able to manage their classrooms and address behavioral issues among learners. They should be able to maintain a consistent classroom structure and implement learning procedures in ways that create an orderly learning environment that enhances kids' academic competencies and support emotional and social development.
5. Ability to Work with People
Elementary-level instructors should be able to collaborate with parents and students. They should look for ways to make the online learning environment comfortable for parents and learners and teach them how to do things.
Elementary online instructors should use different techniques to learn new things, teach others, and show them different ways of approaching things.
9 Best LMS for Kids
Elementary school LMSs for kids are the center of online learning. They offer a wide range of features, services, and tools that allow teachers to distribute learning resources and manage coursework. They also enable learners to access the resources, communicate with instructors, and get regular feedback.
Here are the top LMSs for kids in elementary school.
LifterLMS
LifterLMS seamlessly translates the conventional learning environment into a virtual classroom through its advanced features. LifterLMS easily qualifies as one of the best learning management systems for empowering instructors to create the best learning outcomes.
The intuitive, modern design and easy-to-use features make it easy for students to navigate the platform, access learning resources, and take action.
The platform features multimedia lessons that appeal to different learning styles. Instructors can also design dynamic multimedia quizzes to test learners' competency with the learning materials to motivate learning.
The platform has a student dashboard where learners can track their activity and progress with the courses. LifterLMS is a multi-instructor platform where multiple instructors can collaborate to deliver the course content.
The LMS supports creating report cards, calendars, and curriculum mapping in a central online learning environment. It automates many school management workflows such as data management, attendance tracking, and classroom collaboration.
LifterLMS is keen on learner engagement and allows learners to create online courses that students enjoy.  
Tutor LMS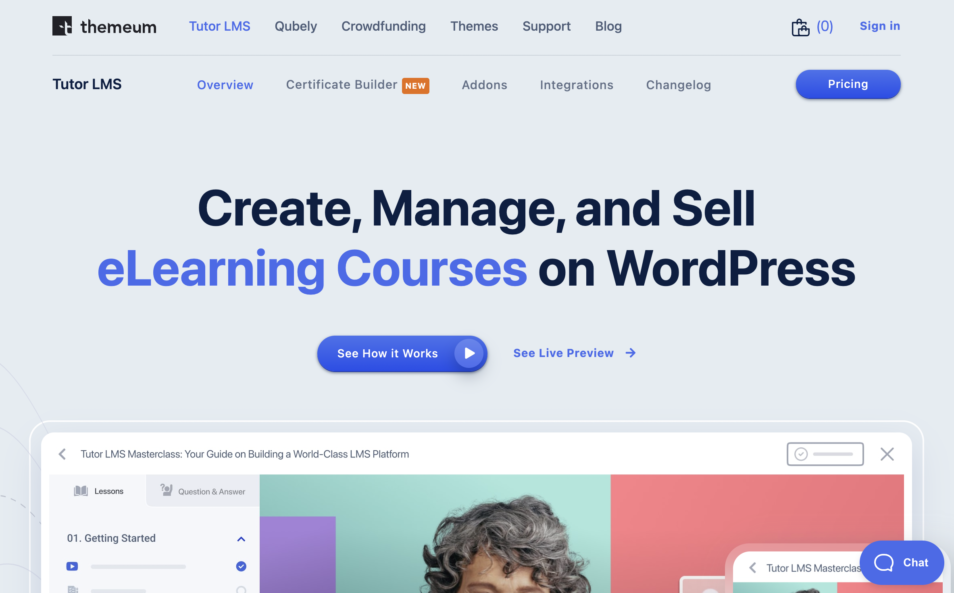 Tutor LMS is one of the most versatile and functional learning management systems for instructors, learners, and parents. The platform is easy for all, making it a full-fledged online learning platform.
The platform features a wide range of tools, from an advanced quiz creator to course builders, allowing educators to deliver learning resources to students efficiently.
Tutor LMS reports and analytics tools give instructors oversight of the students, quizzes taken, and other details on class management. Through the tools, parents can get an overview of their kids' performance and download the performance reports.
Tutor LMS frontend student dashboard allows students to monitor and track their progress and get feedback from their instructors. Parents can also see the status of the subjects and courses their kids have enrolled in.
Instructors can and multi-format learning resources, which the students can easily download with the help of their guardians. Parents, students, and instructors can stay connected through email communications integrated with the platform.
Tutor LMS allows the learners, their peers, and instructors to interact by asking questions and getting answers in the Q&A section.
Blackboard Classroom  
Blackboard classroom is explicitly designed for elementary school learning to enhance student engagement, boost instructors' productivity, and personalize their lessons depending on the learners' needs.
The modern learning management system has a wealth of productivity tools that allow elementary school kids to learn anywhere and anytime. Real-time data analytics provides parents and educators with the insights they need to enhance learners' engagement and performance.
Parents, teachers, and students can connect in a secure online classroom where they can share learning resources through audio, videos, text, and screens to enhance understanding. Using data analytics, instructors can design content to suit the learners' different learning styles.
Parents can communicate with educators to track and monitor their kids' progress. Similarly, instructors can communicate with parents to foster their engagement in students' academic journey.
LearnDash LMS
LearnDash LMS is a robust learning management system that makes it easy for instructors to build courses efficiently. It has a drag and drops feature that allows them to create separate lessons and topics for students in a matter of minutes.
It has auto-playing video class content that plays into the next topic giving learners who are not tech-savvy a seamless experience. LearnDash LMS's advanced quizzing system allows instructors to use different question types depending on the student's comprehension and assessment level.
The platform's diverse content delivery through videos, open-progression and drip-feed lessons make the learning experience fun and unique for every student.
Lesson timers allow parents and teachers to track the student's learning process and make learners take action to progress with their studies. The learning management system's communication tools encourage conversations among the learners through discussion forums making learning an engaging process.
It has several engagement triggers like the requirement for assignment submission before learners proceed to the next lesson.
Instructors can make learning more engaging by awarding badges and certificates to learners who score the best on the quizzes. Through automated notifications, instructors can communicate with parents and students about different actions.
Moodle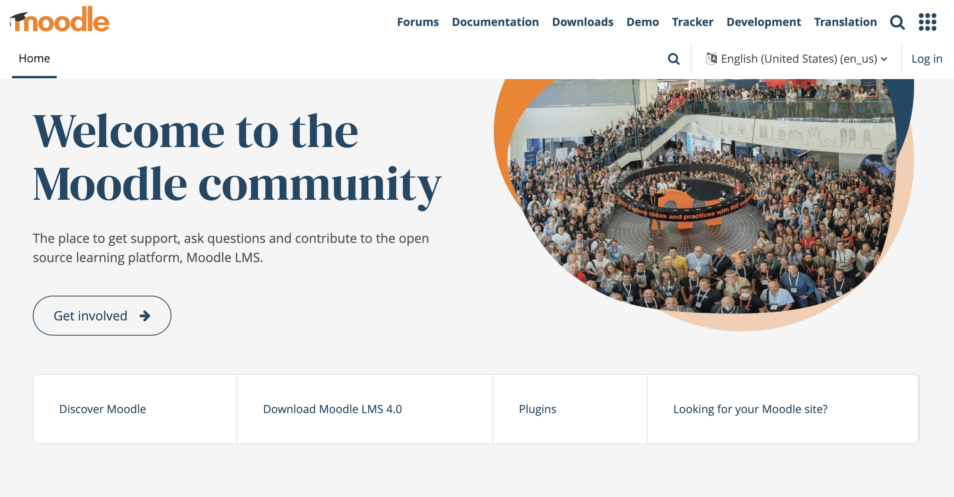 Moodle's reputation as the best LMS for kids is befitting as it features an easy-to-use platform that guarantees advanced instructional delivery, success, and positive learning outcomes.
It has an adaptable dashboard that hosts comprehensive coursework and a calendar that makes classroom management a breeze. It has outstanding organizational features that students could benefit significantly from, making online learning seamless.
Moodle's collaboration features allow learners to interact in forums, build wikis regarding course modules, and share resources. Parents can track the progress of their elementary school kids, who also get automated notifications to help them stay on track with their coursework.
The platform's design is versatile and flexible, and instructors can embed or attach materials and resources consistently for an enhanced learning experience.
Otus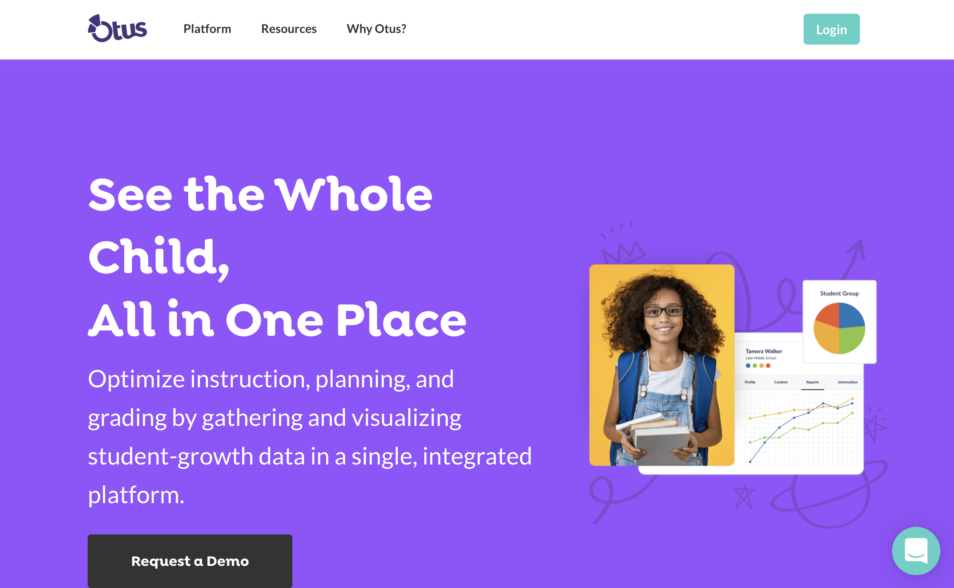 Otus offers more than what traditional learning management systems do. It brings learning management, data analytics, and assessment tools together on one platform.
It is a user-friendly platform that instructors, parents, and students can navigate easily and take action for effective online learning.  This makes it one of the best LMS for kids options.
Otus data analytics tool allows instructors to utilize real-time data to design content and take action in a way that best caters to the learners' needs. Parents and instructors can also track students' performance data in the same location and make decisions to improve the learners' achievements.
Otus's advanced features support state-of-the-art assessments and streamline remote learning by allowing communication between students, teachers, and their parents through its portfolio, calendar, and mail features.
Parents and instructors can customize the platform for the learners to get the most out of its features.
itslearning  
itslearning is a leader in the learning management systems space, and the platform evolves with the changing instructors' and students' needs for enhanced learning experiences.
It has an extensive library of learning resources, curriculums, and assessments in elementary-level core subject areas like mathematics, science, and literature.
Its cloud integration features allow instructors to upload content in real-time to equip learners with the learning materials and resources they need for good performance. It has a powerful, intuitive content recommendation tool that suggests resources to learners and parents aligned to the student's learning needs.
itslearning data analytics and reporting features give instructors insights into the student's needs and allow parents to track their children's progress.
The platform's advanced communication features allow students, parents, and instructors to collaborate through group assignments, conferencing, and shared libraries.
Schoology  
Schoology features an integrated system that allows students access to learning resources, quizzes, assignments, and assessments anywhere and anytime. Instructors can create personalized learning goals that will enable self-paced learning among students.
Instructors use adaptable grading systems that guide students and help them stay on track with their academic progress.
The platform's collaborative structure has effective communication channels supporting student interactions and collaboration.
Instructors can create lessons, schedule exams, and quizzes, and manage assignments on the platform. A content management database is easy to use and access by learners. Instructors and parents can track students' performance and progress on assessments.
The platform's coding feature has color-coded workload levels to alert parents and tutors of an overloaded learner. This way, elementary school kids can get proper support to complete their assignments, quizzes, and other tasks.
Schoology combines visual, collaboration, and communication simplicity, making the online learning experience effortless for elementary school students.
LMS for Kids: Common Challenges To Keep in Mind
Elementary school instructors should empathize with the challenges young students face in eLearning when selecting a suitable LMS for kids.
1. Computer Literacy
Gaps in computer literacy are a significant issue among children in eLearning. Most of them have challenges operating learning management systems and programs like PowerPoint and, therefore, can have difficulty accessing downloaded learning materials.
Instructors can include online resource guides in their content to help parents support their children navigate the learning management systems. Teachers should also give learners opportunities for self-exploration of the eLearning tools by gamifying their courses to help students hone their computer skills.
Through Q&A sessions and online surveys, instructors can identify the technology gaps experienced by parents and children. This way, they can develop strategies to bridge these gaps and make their course designs friendly.
2. Adaptability Issues
Switching from the traditional classroom to online learning is not an easy fit for elementary school kids. The adaptability challenge may make learners resistant to adopting the new system.
Instructors can discuss the benefits of online learning with parents and learners. They can also give the students opportunities to discuss with their peers to change their mindset and accept eLearning.
3. Staying Motivated
Self-motivation is a requirement for effective online learning. However, most elementary school kids may lack it. Gamification of online learning can help enhance their motivation to embrace the new learning trend.
Encouraging social learning and collaboration among students through discussion boards and teamwork can keep students motivated. Rewards and badges can drive learner motivation through the recognition of their achievements.
Factors to Consider When Selecting an LMS for Kids
When determining the reliability and efficiency of a learning management system, there is a specific criterion it has to meet.
1. Customization
A customizable learning management system allows instructors to improve students' learning outcomes by boosting engagement and making the content adaptable. Course materials and resources that cater to the student's individual needs can keep them motivated.
Some customization options to look out for include gamification, certificates and badges, role assignments in discussion forums, and multiplatform content delivery options.
2. Easy-to-Use Platform
An easy-to-use LMS provides learners and parents with easy access to online learning materials.
The effortless access boosts engagement with the learning resources. Students can also use different resources to improve their performance. A user-friendly LMS saves time and keeps learners, parents, and instructors motivated throughout the eLearning process.
3. Extensive Library of Learning Resources
A good LMS allows instructors to attach and embed a multitude of content to create an extensive library of resources to reinforce the learning process. The platform should have expansive tools teachers can use to share learning materials, create quizzes, distribute assignments and give learners assessment tests.
4. Feedback System
The learning management tool should have advanced communication tools that support feedback sharing. Feedback gives valuable insights that learners and parents can use to improve their study techniques and provide them with the assistance they need to improve their performance and achieve learning goals.
Instructors can provide feedback by displaying assessment results and autocorrection on the screen, manual correction, or integrated emails.
5. Notifications and Alerts
Learning management systems integrated with the parents' and students' emails will help them stay on track with assignments, coursework, and other related tasks. They will also stay current on activities and get notifications to take action, such as completing training modules, assignments, or assessments.
Notifications and alerts are also used by instructors to increase engagement rate and attendance.
Summary: LMS for Kids 
Learning management systems for elementary schools carry many functions such as online instruction, distribution of assignments, creation of quizzes and assessments, facilitation of discussion forums, grading, collaboration, and tracking of student progress.
LMS for kids in elementary schools should have robust communication, collaboration, and customization tools. Instructors should be able to deliver flexible training materials that foster the most engagement and drive positive learning outcomes.