Moodle LMS powers thousands of eLearning sites across the globe. Among its many advantages, this LMS offers schools and organizations a wide selection of compatible themes to give your online courses a professional look.
Since your Moodle theme of choice will greatly impact the attractiveness and user experience on your eLearning site, it is important you make a good choice. Modern Moodle themes should not only be nice to look at, but also promote learning, be fully responsive, and be easy to navigate.
So which theme should you choose for your Moodle website? Here's our LMS consultants' pick of the best Moodle themes to help you get started.
What is Moodle LMS?
Before we get started, we want to help out any newbies looking into Moodle as an option for their LMS websites by giving you a quick intro.
Moodle is a highly versatile learning platform that can be used for anything from creating a single online course to powering an online university. Users can get its software for free and install it directly on their servers or pay a service provider to host Moodle on the cloud.
Moodle websites consist of learning spaces each containing courses, which are further broken down into weeks, topics, or other content organization options according to the course format of choice. Furthermore, Moodle courses can include quizzes, assignments, forums, and other activities. You can add even more functionality using free and premium Moodle plugins.
Likewise, Moodle can also be customized using any of the free moodle themes from the Moodle plugin directory or using a premium moodle theme. Below you'll find our selection of modern themes for your Moodle online learning websites.
If you want to learn more about Moodle and its alternatives, check out our post about Moodle vs Canvas LMS.
Edumy
Edumy was the best-selling Moodle theme in 2020 and is still one of the most popular Moodle themes on Themeforest.
Why do online course creators love Edumy? Its modern design, intuitive layout, and user-friendliness are good reasons to start. However, one of our favorite things about Edumy is its visual page builder or "live customizer".
The live customizer makes it easy to create beautiful eLearning sites tailored to your needs in a matter of minutes without any coding. This tool acts as a drag and drop editor and has over 100 different page blocks for course creators to choose from.
You can also take advantage of its drag and drop builder for forms to help you collect user data.
Additionally, there are different home pages, course pages, login pages, and blog layouts to choose from for a quick and easy setup.
Here you can take a look at what a home and course page can look like when using Edumy on your Moodle website:
If flexibility and customization flexibility matters to you, you'll be a fan of Edumy. This theme divides your site into 7 different fully-customizable front-end regions. Elements, colors, logos, and typography are all determined by you.
Other cool features Edumy offers include:
Multi-language support including support for RTL languages
Footer and header blocks that give you more control over design
Image lazy loading support for greater site speed and performance.
A review system for courses that allows you to collect and display student reviews.
A focus mode and night learning mode that will help you deliver a better learning experience.
Mobile responsive design and multiple browser compatibility (tested with Edge, IE9+, Firefox, Safari, Opera, and Chrome).
Price: 99 USD
Lambda
As ThemeForest's best-selling Moodle Theme, there was no question Lambda would make it on our list.
One of the greatest benefits Lambda provides Moodle course creators is versatility. It provides multiple block styles and layouts, including a collapsible sidebar option and your choice of either a boxed or full-width layout. Lambda also allows you to customize the look of your website's header and has different visual page elements such as sliders, accordions, tabs, and icons.
Overall, the look of the theme is clean, professional, and appealing to the eye. Yet, it remains simple enough to be easy to navigate. Here is an example of what a course page can look like when using this theme:
Navigation-wise, Lambda allows you to feature an easy-to-find login form right on the header.
Other of its best features include:
Multilingual support that includes RTL languages allows you to connect with a diverse student pool.
Social icons that are displayed on your site's header, footer or block regions to increase your reach on social media.
Wide access to different fonts and typography options and Font Awesome Icons.
Special footer blocks.
Price: 59 USD
Adaptable
Building your eLearning site on a budget? Then you won't want to miss this one. Unlike the rest of the themes on this list, the Adaptable themeis a free moodle theme. It can be downloaded directly from the Moodle plugin directory.
Adaptable is a customizable two-column theme with a drag and drop builder. It features specialized blocks for your site's front page, course pages, footer, and dashboard. Block style, fonts, colors and buttons are fully customizable. Additional layout settings for width, slider width, and padding of various elements are also available. Furthermore, course creators can choose whether they wish to display social icons or a search option on the header.
Here is an example of what a Dashboard page and course page would look like when using the Adaptable theme:
Here are some of the other features Adaptable offers:
The option to add a login form in the header on the front page
A news/announcements ticker is displayed on the Home and Dashboard page.
Sitewide notices and alerts for display
Price: Free
New Learning
The New Learning theme comes with multiple pre-made Moodle sites (like the site demo showcased below) which only take minutes to edit and customize using their live editor.
You can also use saved layouts for single pages and "blocks" or parts of a page.
All you have to do is drag and drop any of the over 50 available elements on the page, just like you would do with any page builder.
There are multiple course formats available with this theme: the topics format, the collapsed topics format, and the topics with one section per page. You can take a look at two of the different formatting options in the images below:
What's best, New Learning creates attractive course enrolment pages for each of your courses on auto, with multiple demo options to choose from.
If you have mobile users, New Learning also has the advantage of being mobile responsive. This guarantees your courses will look their best no matter what device your students are accessing them on.
Here are some of the other reasons why we love the New Learning theme:
It supports multiple languages (including RTL languages) allowing you to better communicate with a diverse community of students.
Advanced filters help your students to browse through the course catalog, sorting by price, category, and teachers.
Its course review system helps you collect student feedback and promote your courses using social proof.
Price: 99 USD
Edwiser RemUI
Finally, we couldn't close off this list without mentioning the Edwiser RemUI theme.
This theme offers course creators an easy setup process with three different ready-made website templates: one for corporate training, one for universities, and one for schools.
However, you don't necessarily have to go for one of these pre-built sites. Edwiser RemUI also has individual page layouts for your site's home, login, course enrollment, and course archive pages, drag and drop page builder, and over 14 different custom blocks.
For example, you can use one of their moodle website layouts to get your student login page to look like this: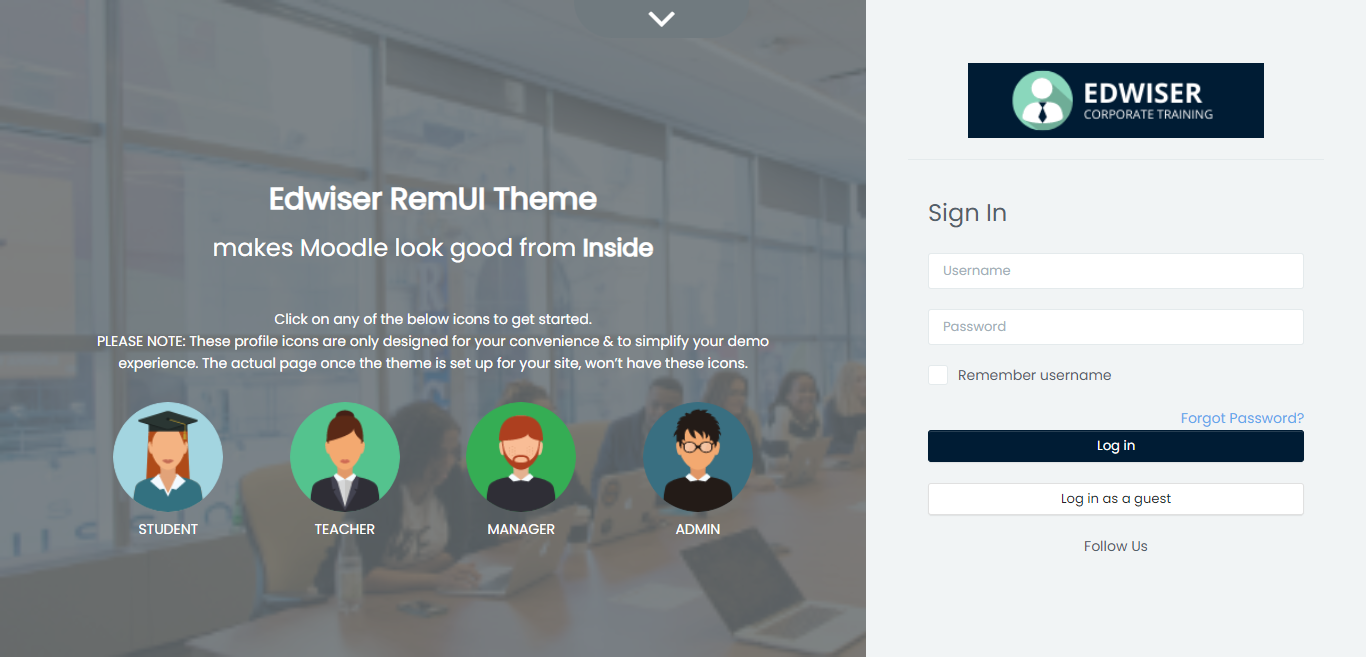 Among this theme's other customization options, course creators enjoy the freedom to chance colors within different page elements, change the typography and button styling and choose among different header layouts.
Other interesting features offered by Edwiser Rem UI include:
Built-in speed optimization
Mobile responsiveness
Focus mode to minimize onscreen distractions
A display of course statistics showing teachers how many students have enrolled and/or completed a course.
Price: 99- 179 USD
The regular version of the moodle theme is 99 USD, while the Pro version is 179 USD and includes additional features such as a Forms builder, Homepage builder add-on, Rapidgrader add-on with downloadable reports, and additional blocks.
The Best Moodle Themes
With thousands of users, amazing features, and great user reviews, any of the themes mentioned above would make a great choice for your Moodle site. Ultimately, your own preferences and online course requirements will determine which one is best suited to your needs and your target audience.
What is your favorite Moodle theme? Please let us know in the comments below!
But, before you go – do you need more help selecting an LMS platform or building your eLearning site? Don't hesitate to reach out to our LMS consultants. We'll help you do everything from selecting a learning management system and scope out your project to configuring and customizing your site.