Our clients are always asking us for recommendations on how to enhance the reporting and grading features on their LearnDash websites. There are several LearnDash extensions available that enhance the reporting and grading feature of this LMS plugin. In this article, we will give you an in-depth analysis of the top five LearnDash Reporting and Grading add-ons.
LearnDash ProPanel add-on enhances your LearnDash administrator experience by combining comprehensive reporting and assignment management, enabling you to send course explicit correspondences, and showing the ongoing progress of your LearnDash courses.
This addon provides you the ability to view the real-time activity of your student as soon as he/she enrolled in the courses. Using this add-on you have full control to manage all the uploaded assignments and essays. Moreover, you can view and download user course progress and the quiz results.
Features:
Let's take a look at some of the main features:
ProPanel Overview – The LearnDash ProPanel add-on adds a section for an overview reporting where you can view the total students, the number of courses, assignments pending and essays pending.
ProPanel Reporting – This section helps you to filter the users and courses data so you can get the desired result only.
Plus this section allows you to email a selected group of students. For example, you can email anyone who has not yet completed the specific course.
Activity Stream – The Activity Stream section shows the ongoing action of students' interactions with your courses. Once a student completed his/her course, lesson, topic, or quiz the information will be shown here.
Progress Chart – Using ProPanel's Progress Chart section the LMS administrator can view how many students haven't started the course yet, how many numbers of students are in progress and how many of them have completed the course.
Plus here you can also view the in-progress chart, showing how many students completed the course less than 20 percent, 60 percent or 100 percent.
LearnDash Gradebook is a robust add-on. Whether you are using LearnDash in a conventional classroom or have a blended learning program.
It allows you to track your students' online progress and manage their progress all from a centralized location, without jumping between different screens.
This addon is not only just integration with LearnDash. It also provides a lot of flexibility in how you report and manage students' performance.
Features:
Let's discuss some of the main features.
Front-End Report Card – With Front-End Report Card feature you can share student's grades privately. They can simply log in and will be able to see their grades for all courses, quizzes, and assignments.
Automatically Synced with LearnDash – This awesome feature automatically fetches grades from your LearnDash based quizzes and assignments.
Manual Grade Entry – Administer grades for non-LearnDash items, such as projects, classroom participation, and reading assignments. If these activities need a grade, it can be added to the grade book.
Weighted Grades – Just select the weighted grade option to weight a grade.
Custom Grading Scale – This feature allows you to customize your grading scale according to your needs, for e.g. what creates an "A" versus an "A-" or a "B+", or choose to not use letter grades at all.
The Tin Canny LearnDash Reporting plugin adds detail reporting on LearnDash for administrators and Group Leaders. The best thing about the plugin is that it helps you track the progress and completion of Articulate Storyline/Rise, Adobe Captivate, and iSpring modules published to Tin Can or SCORM, as well as H5P content.
Features:
Let's discuss some of the main features below:
Mark Complete – This feature gives you an option to Control the Mark Complete button behavior of LearnDash based on activity inside uploaded modules.

Dashboard Report – With this feature, you can see Tin Can SCORM statement and LearnDash course completion at a glance.

Course Reports – You can monitor learner and course activity with this feature. Course reports can also be shown on the frontend simply by a shortcode.

Detailed Drill Down User Reports – This feature allows you to drill down to review LearnDash, Tin Can and SCORM activity by the individual user.
Drill Down Course Report – With this feature, when you click on the course, it will give you more details of the course including a list of enrolled users and overall performance data.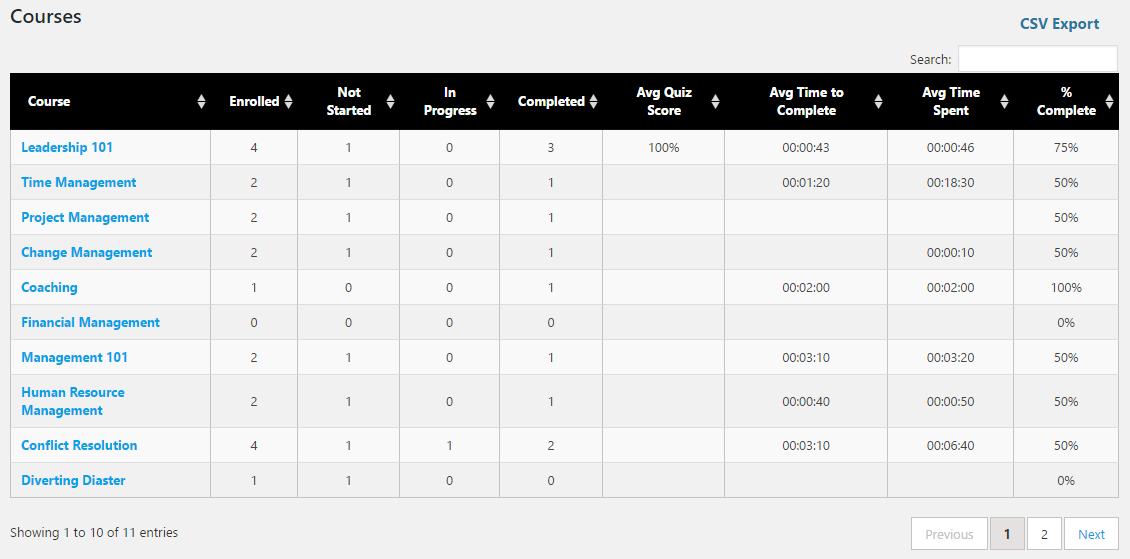 User Insight for LearnDash is a user management add-on that puts your students' data at a single place with a beautiful interface. Users Insights for LearnDash adds a module to examine the overall statistics about the student's activity for courses, lessons, and quizzes. It gives you reports, such as how many courses each student has completed or how many quizzes they have attempted and much more…
Features:
Let's discuss its main features:
Active Students Report – The active students' report tells what number of students are active over time. Student activity is charted on a time scale.
Course Enrolments Report – The Course enrolments report can show you how many courses have been started by the students' overtime.
Top Courses Report – The top courses report shows a chart of the well-liked courses based on the number of students enrolled in the courses.
Top Groups Report – The top groups' report is used for finding the most popular groups based on the number of students.
Quiz Attempts Report – It shows the number of attempts a student had to pass a quiz.
Quiz Score Report – In this report, a range chart shows the scores of the quiz attempts. You can see how your students score on the quizzes.
Advanced LearnDash User Filters – Here you can apply a number of filters to search for the desired result.

The Frontend scores and reports add-on combines with LearnDash to automate scoring and allows Course Administrators to show user scores. You can provide advanced scoring and feedback with their courses and online learning websites, give suggestions for additional courses and live sessions, make recommendations for additional courses and live sessions.
Its main features include assessment and quiz reports, assessment reports, recommendation reports, overall score, and GPA report. These features are discussed below in detail.
Features:
Let's discuss some of the main features below:
Assessment and Quiz Reports: It brings many features for Assessment and Quiz Reporting which includes, Time Completion Reports, Quiz Score Comparison Reports, Learning Objective Comparison Report, Track all Quiz Scores within a course, Overall Score by Learning Objective and Rubric Based Scoring for Quiz Essay Questions.
Assignment Reports – In Assignment reports it provides, Advanced Scoring, Skill Scores, Frontend Assignment Grades and Feedback, Assignment Feedback and Peer Reviews.
Recommendation Reports – In Recommendation Reports, this add-on provides, Recommended Courses, Recommended Live Sessions and Filters.
Overall Score and GPA Report – In this feature, the add-on provides an average score from all course grades within a category to calculate a GPA, Weighted Scoring for Quizzes, Assignments and Final Exams. It also provides Transcripts for the students.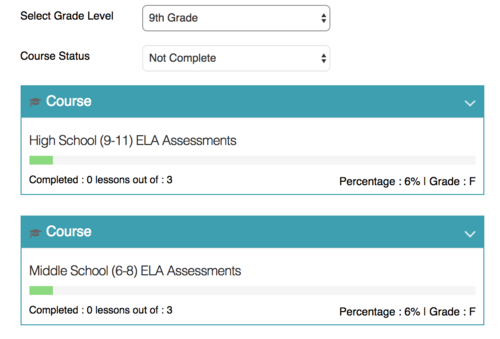 LearnDash Reports are a very important tool to track your students' performance. By tracking learner progress you will know what's missing in your course content and how you can fix it to improve your eLearning success.
If you need any assistance with the LearnDash, don't hesitate to drop us a line here or through our contact form and one of our Ninjas will be in touch ASAP.